What our Customers are Saying.
Salvation is at hand for those seeking to buy CNC Routers and Laser machines.
Ross CNC, base in the Mount Maunganui area and owned and operated by Vincent Ross and Tanya his wonderful wife.
I really can't say enough about their professional manner and awareness in this area of technology, they were able to answer all my questions and address my concerns about after-sales support and installation.
They have been supplying NZ for over 10 years, so they know their stuff.
The service on offer from A full installation of the machinery, A fantastic option and a hands-on walk through the machine's operational features and software, not many companies offer that service these days.
These guys are your obvious choice, call in you won't regret it.
Just A few things made within days of owning the laser.
Regards, Mike from Kawerau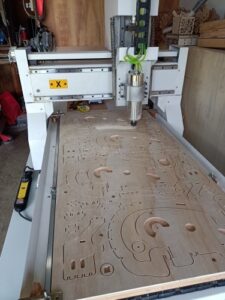 Regards Mike
---
My name is Geoff Slater from Craftmenco. 
When I first made contact with Vince I found him very approachable and helpful. Vince took the time to listen and answer my questions. 
He communicated well and was very knowledgeable  about his machines and the software that run the CNC machines. 
Vince made it very clear that if I had any questions he was just a phone call away. 
Highly recommended Company. 
The CNC router I purchased handles all types of work, from fine detail work to big jobs. 
We have used it for diamond drag engraving with excellent results. 
I have included some of the work I have done
on our CNC router from Vince. 
Craftmenco